Sarah Brin
Media Molecule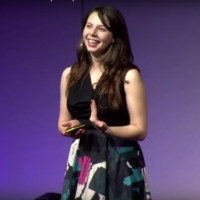 Sarah Brin is the Business Development Manager at Media Molecule, and has been leading teams of hybrid creative technologists for over ten years. She specializes in world-building, immersive experiences, and cross-disciplinary collaborations. Previously, she led Strategic Partnerships at the George RR Martin-backed experience design company Meow Wolf, managed Autodesk's Artist in Residence program, and steered an EU research project about playful museums. She is dedicated to building fun, inclusive experiences that emphasize human sense perception and joy, rather than over-hyped tech.
Sarah Brin is speaking at the following session/s
There's Always Been a Metaverse
Tuesday 12th July:
14.00 - 14.45
Room 1
The term "Metaverse" seems to be a pretty common buzzword these days. But what does it really mean? And why are people so obsessed with metaverses, what makes them so good at whipping up frenzied fandoms? In this presentation, futurist and senior producer Sarah Brin demonstrates some of the historic lineages of expansive story worlds, and distills some key design principles for creative technology practice, world-building, and meaningful connections with audiences.
Takeaway:
Historical precedents for metaverses. Why reinvent the wheel?
Drawing distinctions between what's over-hyped nonsense and actual potential use cases for new technology
Practical design tips for designing fun, social, and emergent player behaviors