Sally Blake
Silent Games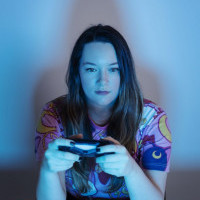 Sally Blake is the CEO of Silent Games and has worked in both AAA and indie game development for over 10 years. She has either won or been shortlisted for multiple industry awards for developing strong, happy and motivated teams, as well as her work around diversity and inclusion. Born in Bradford and now living in Newcastle-upon-Tyne in the UK, she champions the game industry in the North of England and founded Women Making Games (WOMG) to support women in the local area. Sally has shipped numerous titles including: "Just Dance", "Watch Dogs", "Tom Clancy's The Division 1&2", "Descenders", "Yes, Your Grace", "Hypnospace Outlaw", "Britannia VR" and more.
Sally Blake is speaking at the following session/s
Founding a Game Studio: The Highs and Lows
Wednesday 13th July:
12.00 - 12.45
Room 1
Founding a Game Studio: The Highs and Lows is a panel that features a number of experienced studio founders to discuss the challenges and highlights of founding and running your own game studio. The panel will cover topics such as: creating a studio vision, running a studio ethically, overcoming challenges and finding sustainable investment. The panel will feature candid questions that will shed light on some of the lesser-known aspects of managing a game development studio and audience members will have the opportunity to ask insightful questions to accomplished founders who have seen a lot! The panel will also inspire those wanting to create their own studio in the future, as well as providing additional knowledge to existing industry founders.
Takeaway:
How and why studios are founded and how they are sustained over time
Potential pitfalls, challenges, risks and mitigations to those issues
The benefits and highlights of running your own studio vs working in an existing studio