Nina Adams
Auroch Digital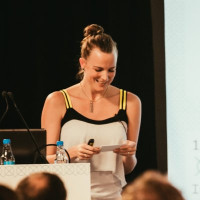 Nina Adams has had an eclectic and varied career path. From circus performer to Operations Director, and everything in-between. Nina joined Auroch Digital in 2015 as the Office Manager and over the years has worked across the breadth of the company, from finance to business development, and HR to production, working her way up to being promoted to Operations Director. Over the years, Nina has worked alongside Dr Tomas Rawlings to pitch, sign and develop great games, including the digital adaptation of Steve Jackson's Ogre, Achtung! Cthulhu Tactics, their own IP; Brewmaster, and a very exciting, unannounced, 3rd party IP. In 2021 Nina was an integral part of Auroch's acquisition by the Sumo Group, further extending her knowledge of the industry. Nina has a passion for helping to shape the games industry to make it a fantastic place to work. This was furthered by studying Professional Management, becoming a UKIE board member, and training as a mental health first aider.
Nina Adams is speaking at the following session/s
Signing Your Game (and what to avoid!)
Thursday 14th July:
15.00 - 15.45
Room 6
As an indie, one of the most stressful parts of development is finding funding. If you want to go down the publisher route, you must convince them to back your game, negotiate the deal, then actually make the game in a partnership. In this talk, Nina will talk through tips and advice Auroch Digital has learned over more than 10 years of signing and developing games with various publishers. Nina will use her experience of working on multiple projects (with some war stories!) and of taking Auroch Digital's latest exciting announcement from pitching all the way through to partnership relations during development. Using this example, Nina will highlight areas you can improve your pitching and classic things to look for to avoid getting into a bad deal that could put your project, or even your studio, at risk.
Takeaway:
Practical tips on what to add to your pitch deck to help your project stand out.
Advice for during pitching meetings, and what to do after.
Ways to protect your project and your company during contract negotiations.