Moo Yu
Team Artichoke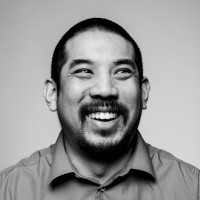 Moo is the lead developer at Team Artichoke, a studio focused on making games with a little heart. Previously, Moo worked on Knights and Bikes, Subsurface Circular, LittleBigPlanet, the Ratchet and Clank series, and Moshi Monsters. He has worked in roles varying from programming to game designl to product management in console, PC, mobile, and social gaming. He is also a founding member of the POC in Play team.
Moo Yu is speaking at the following session/s
Hiring Ethically and Empathetically
Tuesday 12th July:
16.00 - 16.45
Room 2
Moo spent months thinking obsessively about the right way to post a job listing and ethically hire some collaborators for his prototype. After posting two listings only on Twitter and receiving over 350 applications over two roles for an unannounced game prototype at a newly formed company, he'd like to spend some time to talk about what decisions he thinks contributed to having such a great and diverse applicant response as well as what he'd do differently next time.
Takeaway:
What to put in a job listing and what not to (definitely put the pay)
How to think about pay for a job role
How to be empathetic throughout the hiring process