Marie-Claire Isaaman
Women in Games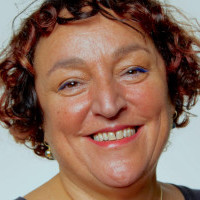 Marie-Claire has had a long career inspiring others to achieve. She is the CEO of Women in Games, a not for profit founded in 2009. Since joining as CEO in 2016 she has taken Women in Games from a tiny grassroots volunteer organisation, operating in the UK to a globally recognised leader in the field of Gender Equality, Diversity and Inclusion. She joined in 2016 after a career in education, directing one of the first and most successful Games Art Design BA and MA programmes in the UK at Norwich University of the Arts (NUA). She continues to support the education sector as Chair of the Industry Liaison Group at FutureWorks Manchester, Trustee for the Open College of the Arts and Trustee for the BGI.
Marie-Claire Isaaman is speaking at the following session/s
Building A Fair Playing Field
Wednesday 13th July:
12.00 - 12.45
Room 6
Women in Games has just published The Guide: Building A Fair Playing Field. Recurring revelations about working cultures in the games sector reveal that there is an urgent need to adopt the fair playing field approach in relation to gender. The most important ingredient in making real, systemic change, is leadership. Women in Games recommends leaders across the games and esports sectors commit to genuine change, by providing the driving force behind actions designed to bring about fairness. In practical terms, this means being publicly aligned to clear goals, and providing visible, high-level leadership in the ongoing process of successfully achieving those goals. Unless leaders actively plan and set out how they are to be achieved, progressive ideas, policies, objectives and required outcomes will gather more dust as papers in a drawer, or stay as box-ticking exercises. It is not enough to simply increase female representation numerically and call this 'diversity'. A diverse workforce can only thrive if fairness is built into every aspect of the structure in which it operates. Employing more women is the first step, but it should be integrated into the creation of a culture of belonging. Marie-Claire Isaaman and Sharon Tolaini-Sage – the co-authors of The Guide – will discuss why this document is important, and offer some advice on how studios can Build A Fair Playing Field themselves.
Takeaway:
What is the Women in Games Guide, and why is it important?
Why is gender balance important in the games industry, and what are the benefits to studios?
Practical advice on what studios of all sizes can do to engender a Fair Playing Field