Jean-Luc Monnet
Arkane Lyon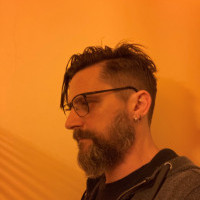 Jean-Luc Monnet has worked at Arkane's Lyon studio since 2006, first as a Concept Artist, and most recently as Lead Concept Artist and Assistant Art Director on 2021's DEATHLOOP. One of the things he loves doing most is spending time in his workshop, welding metal parts together.
Jean-Luc Monnet is speaking at the following session/s
Keynote: DEATHLOOP: Looking Inside a Design Loop
Wednesday 13th July:
9.45 - 10.45
Room 1
In this fireside chat, members of the Award-winning Arkane Lyon studio team, including this year's Develop Star Award recipient Dinga Bakaba, discuss some of the development challenges and successes they had during production of DEATHLOOP.
Discussion topics will include:
Creating a first-person action game in a brand new world, while preserving the Dishonored heritage.
Analyzing the challenges of developing an immersive sim with the added complexity of multiplayer components.
How the studio focused on the personal skills they had to develop during DEATHLOOP's development.
The creative team will share their choices on the design of the characters, environments, and weapons design.
This panel will change how you look at making your next game.