Francesco Venco
Arkane Lyon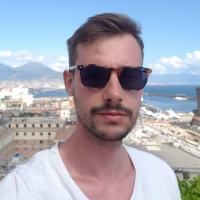 Francesco knew he wanted to make video games playing Tomb Raider as a child, but got sidetracked and ended up getting a PhD in "Genomics and Big Data" instead. The Calling was too strong though, and he made a U-turn in his career, joining Arkane Lyon in 2019 during the development of DEATHLOOP. Francesco is Gameplay Programmer, that means he make the guns shoot, the players move, and all kind of crazy stuff happen. If you want to make him cry, ask him about the Strelak Verso handguns.
Francesco Venco is speaking at the following session/s
Keynote: DEATHLOOP: Looking Inside a Design Loop
Wednesday 13th July:
9.45 - 10.45
Room 1
In this fireside chat, members of the Award-winning Arkane Lyon studio team, including this year's Develop Star Award recipient Dinga Bakaba, discuss some of the development challenges and successes they had during production of DEATHLOOP.
Discussion topics will include:
Creating a first-person action game in a brand new world, while preserving the Dishonored heritage.
Analyzing the challenges of developing an immersive sim with the added complexity of multiplayer components.
How the studio focused on the personal skills they had to develop during DEATHLOOP's development.
The creative team will share their choices on the design of the characters, environments, and weapons design.
This panel will change how you look at making your next game.