Dinga Bakaba
Arkane Studios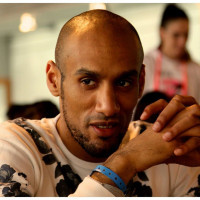 Starting in the industry as a QA tester for mobile games before smartphones were a thing, Dinga Bakaba got his break as a game designer at Wizarbox in Paris, working on, among other things, Jane Jensen's Gray Matter. After a stint at Playlogic, working on unannounced projects until the company closed, Bakaba made the dream move to Arkane to work as a game designer on Dishonored and it's DLCs, before being promoted to lead designer on Dishonored 2 and Death of the Outsider. His most recent project was co-directing the critically acclaimed "DEATHLOOP" with his long-time collaborator Sebastien Mitton. Bakaba is currently Head of Studio at Arkane Lyon, and is a fan of creative use of Powerpoint, being a cool Dad and the Brazilian martial art of capoeira.
Dinga Bakaba is speaking at the following session/s
Keynote: DEATHLOOP: Looking Inside a Design Loop
Wednesday 13th July:
9.45 - 10.45
Room 1
In this fireside chat, members of the Award-winning Arkane Lyon studio team, including this year's Develop Star Award recipient Dinga Bakaba, discuss some of the development challenges and successes they had during production of DEATHLOOP.
Discussion topics will include:
Creating a first-person action game in a brand new world, while preserving the Dishonored heritage.
Analyzing the challenges of developing an immersive sim with the added complexity of multiplayer components.
How the studio focused on the personal skills they had to develop during DEATHLOOP's development.
The creative team will share their choices on the design of the characters, environments, and weapons design.
This panel will change how you look at making your next game.