Dana Nightingale
Arkane Lyon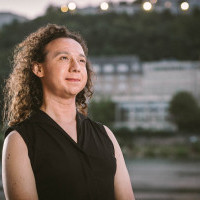 Dana began working on the Dishonored Series as a Level Designer in 2010 after ten years of Thief modding and a Master's in Architecture. She's worked on nearly every Dishonored release, and has created several fan-favourite levels, including the Clockwork Mansion of Dishonored 2. In 2019 she became Campaign Designer on Deathloop, which shipped in September of 2021 to critical acclaim. She is currently Campaign Director at Arkane Lyon and a frequent lecturer at conferences, universities, and events that champion diversity in game development.
Dana Nightingale is speaking at the following session/s
Designing `DEATHLOOP`s First Hours at the Eleventh Hour
Wednesday 13th July:
11.00 - 11.45
Room 1
This is the story of how user research led to the creation of the opening hours of "DEATHLOOP" during the last months of the game's development, and how those hours, and eventually the entire game, were reshaped a piece at a time by continued research. It is told by Arkane Lyon's Campaign Director, a developer who stands at the nexus between level design and narrative design, who had to level up her competency in user experience design overnight to meet the challenges the game faced. In this lecture she will walk you through this harrowing process, where dramatic changes to the game were equal parts overwhelming successes, and revelations of dreadful new issues.
Takeaway:
User experience design is not a straight line. A smart fix to a big issue can reveal problems elsewhere. This is a good thing
The obvious solution to a user experience issue can be the wrong one. User research specialists can uncover the problem hidden in the data. Treat the cause of the problem, not the symptoms
Dana Nightingale's design process, and how it's similar to the type of user experience she tries to create
Keynote: DEATHLOOP: Looking Inside a Design Loop
Wednesday 13th July:
9.45 - 10.45
Room 1
In this fireside chat, members of the Award-winning Arkane Lyon studio team, including this year's Develop Star Award recipient Dinga Bakaba, discuss some of the development challenges and successes they had during production of DEATHLOOP.
Discussion topics will include:
Creating a first-person action game in a brand new world, while preserving the Dishonored heritage.
Analyzing the challenges of developing an immersive sim with the added complexity of multiplayer components.
How the studio focused on the personal skills they had to develop during DEATHLOOP's development.
The creative team will share their choices on the design of the characters, environments, and weapons design.
This panel will change how you look at making your next game.