Björn Ritzl
Defold Foundation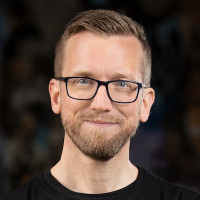 Björn is the Product Owner and Chairperson of the Defold Foundation, overseeing development of the free and source available Defold game engine. He is also the co-founder of Refold, a trusted game technology partner and games studio located in Stockholm. Björn has worked with mobile game development since before the smart phones. Björn is a recurring expert judge for the js13kgames competition and he is a member of the program committee for the GitNation Web Gamedev Summit. He enjoys old school games and traditional roguelikes and he is a strong believer in the power of open source development with more than 150 open source projects on GitHub.
Björn Ritzl is speaking at the following session/s
How to Get Things Done Without Ever Breaking Things
Wednesday 13th July:
15.00 - 15.45
Room 3
In this talk you will learn about the best practices, considerations and effort that goes into developing and maintaining a cross platform game engine with monthly releases without ever breaking things for the end-users.
Technical challenges specific to game engines
Important performance metrics to look out for when evaluating game engines
How coding practices and design principles can help write efficient and maintainable code for game engines (and games)